NRA-ILA GRASSROOTS ALERT
Vol. 18, No. 45 11/04/11
Assistant U.S. Attorney General Wants Gun Owner Registration--
Doesn't Think Gun Owners Need Semi-Automatic Rifles or Shotguns
After weeks of stonewalling by the Department of Justice, a clearer picture of what its top officials knew about BATFE's Operation Fast and Furious, and when they knew it, is slowly beginning to emerge.
On Tuesday, Lanny Breuer, Assistant Attorney General for the Department of Justice's Criminal Division, testified before the Senate Judiciary Subcommittee on Crime and Terrorism about his knowledge of BATFE's gunwalking operations, and his support for gun control.
In April 2010, Breuer says, he knew that BATFE agents had allowed hundreds of guns to be illegally purchased and smuggled to Mexican drug cartels in 2006 and 2007 as part of Wide Receiver, a Tucson-based operation similar to Fast and Furious, which was hatched out of Phoenix. Nevertheless, nearly a year later, when BATFE was accused of allowing guns to walk in Fast and Furious, Breuer suggested that he was convinced to not consider the allegations seriously. "I recall that both the leadership of ATF and the leadership of the United States Attorney's Offices in Arizona . . . were adamant about the fact that [gunwalking] was not, in fact, a condoned practice," Breuer said. And as noted last week by the New York Times, last February the Justice Department sent a letter to Congress stating "A.T.F. makes every effort to interdict weapons that have been purchased illegally and prevent their transport into Mexico."
Your Immediate Action Required; National Right-to-Carry Reciprocity Act Going to House Floor Soon:
We continue to report on the importance of H.R. 822—the "National Right-to-Carry Reciprocity Act of 2011" and to detail the truth about why the legislation is very good for gun owners. The bill will be heading to the U.S. House floor soon, and it is imperative that you contact your U.S. Representative IMMEDIATELY and urge him or her to support this critically important legislation.
The Time Has Come to Fire Eric Holder!  The cauldron that is the "Fast and Furious" scandal continues to boil this week, with 35 members of Congress now calling for Attorney General Eric Holder's immediate resignation. Meanwhile, the White House and the Justice Department remain silent and stubbornly continue to ignore the demands to remove Holder.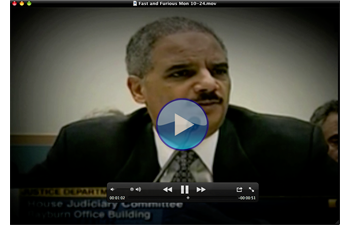 Court Rules that Seattle Gun Ban is Illegal: The Washington state Court of Appeals affirmed this week that a gun ban in Seattle's parks is illegal. The decision comes more than a year after a King County judge sided with several area gun owners, the NRA and the Second Amendment Foundation, and the city of Seattle appealed.
Or der New "NRA University" Gear Today! One of NRA-ILA's most successful--and most requested--programs, "NRA University" is
a two-hour training seminar for college students that provides a historical perspective of the Second Amendment and addresses the present-day debate surrounding gun rights and gun control. NRA U also provides students with the information and tools they need to help protect the Second Amendment, both on and off campus. In today's academic climate, there is a pressing need to bring the truth about the Second Amendment to college campuses nationwide, and to educate tomorrow's leaders in the fight to protect our freedom. NRA U is doing just that.
Be sure to show your NRA pride, both on and off-campus, by ordering NRA University's newest gear! Receive an official NRA U hat with your $15 donation to NRA-ILA. Click here to order now!
For more information about NRA University, or to schedule an NRA U event at your school, please visit www.NRAILA.org/NRAu.
Another Way To Get Involved--Join NRA's Facebook And Twitter Groups: Internet social networking has exploded in recent years, and websites such as Facebook and Twitter attract millions of users. This on-line community fosters a connection between its users, and allows distribution of user-generated content (like pictures, profiles, music, video, and text).
NRA has been a part of this social technology for some time now, with a presence on Facebook, Twitter, and other social networking sites. By actively participating in these new media, we are able to reach out to more potential members and supporters than ever before.
The current king of on-line social networking is Facebook. NRA's Facebook page continues to be extremely popular. In fact, thanks to you, our page has grown from about 300,000 fans on July 28, 2010 to over 1,215,000 fans as of this week!
Grassroots News Minute Video: To view this week's "Grassroots News Minute" video, please click here:
STATE ROUNDUP (Please note the only items listed below are those that have had recent action. For other updates on state legislation, please go to the state legislation section at www.NRAILA.org, and check each week's issue of the Grassroots Alert.)
For additional information, please click on the links provided.
ARIZONA: BLM Proposes Closing One-Half Million Acres to Target Shooting
The Bureau of Land Management (BLM) has released a plan for the future management of nearly 1.4 million acres located southwest of Phoenix in parts of Maricopa, Pinal, Pima, Gila and Yuma counties. Of that total, over 486,000 acres are within the Sonoran Desert National Monument which the BLM proposes to close to target shooters. The public comment period for this plan is open through November 25. Please attend one of the scheduled meetings to show support for keeping public lands open for all of the public, including target shooters, and to learn more about how this plan will affect your future enjoyment of these lands.
NRA Files Protest Letter in Opposition of BLM's Resource Management Plan for Recreational Shooting Ban
The National Rifle Association has filed a letter protesting the Bureau of Land Management's (BLM) final resource management plan for Ironwood Forest National Monument that will close the entire monument to recreational shooting.
COLORADO: Management Plan for Public Lands Will Affect Target Shooting
The Bureau of Land Management (BLM) has released a resource management plan (RMP) for 500,000 acres managed by the agency's Colorado River Valley Field Office located in Silt and responsible for the counties of Eagle, Garfield, Pitkin, Roult, Mesa, and Rio Blanco. The comment period is open until December 16 and BLM will announce in advance public meetings regarding the RMP. If you enjoy target shooting on these lands, it is extremely important that you review the plan to determine how it will affect your future access for target shooting. Please attend at least one of the public meetings and take time to e-mail comments to the BLM.
Additional BLM Management Plan for Public Lands in Will Also Affect...
The Bureau of Land Management (BLM) has released another resource management plan (RMP) and this one on approximately 378,000 acres managed by the agency's Field Office in Kremmling. The public lands are within Grand, Jackson, Summit and parts of Larimer and Eagle Counties. The RMP can be viewed by clicking here. The public comment period is open until December 16 and BLM will announce in advance public hearings on the RMP. Please attend at least one of the public meetings and take the time to e-mail your comments to the BLM.
MICHIGAN: Gun Hunting Up for Public Comment in Huron-Manistee
The U.S. Forest Service has released a Draft Supplemental Environmental Impact Statement (DSEIS) that will ultimately determine whether or not firearm hunting can continue on more than 66,500 acres in Michigan's Huron-Manistee National Forests.
As a result of a September 2010 ruling by the Sixth U.S. Circuit Court of Appeals, the Forest Service prepared the DSEIS to evaluate the impacts of a proposed ban on firearm hunting and snowmobile use in 14 semi-primitive, non-motorized or wilderness areas of the forest.
NEBRASKA: Fight for Gun Rights in Omaha Continues
On October 25, the Omaha City Council voted 5 to 2 against adopting poorly written changes to current Omaha gun laws, but they will revisit these issues next month. This proposal would have increased handgun registration fees from $10 to $15 and failed to clearly define what constituted a "concealable firearm" and to mirror current state and federal language with regard to qualifications for possession and registration.
NEVADA: Please Attend FREE NRA-ILA Grassroots Workshop in Las Vegas on Nov. 19
To ensure we are prepared to meet the challenges and opportunities we will face in the coming months, and especially in the 2012 elections, NRA-ILA is hosting a free Grassroots Workshop on Saturday, November 19, at 1:00 p.m. The meeting will be held at Stoney's Rockin Country, 9151 Las Vegas Boulevard S., #300, in Las Vegas (www.stoneysrockincountry.com )
At this meeting, NRA-ILA staff will lay out our plans for our grassroots legislative and election strategies in Nevada and discuss how you can become even more involved with our mutual efforts. We will also be introducing the new NRA state association--the Nevada Firearms Coalition (NFC)--that will be on hand to talk about their plans for the state. You will get the chance to meet the new state association board members and learn how NRA-ILA and the NFC will be working together to protect our Second Amendment rights!
This meeting is absolutely free and beverages and light snacks will be provided. The event will begin at 1:00 p.m., and end at 4:00 pm. Please make plans to attend and encourage your family, friends, and fellow firearm owners and NRA members to attend as well.
To register for this free event, please click here, or call the NRA-ILA Grassroots Division at (800) 392-VOTE (8683).
WISCONSIN: Two NRA-Backed Bills Sent to the Governor
On November 3, "Castle Doctrine" legislation (Assembly Bill 69) passed in the state Senate by a 26 to 7 vote. Then on November 4, the Assembly concurred with the Senate amendment and the final version of this bill now goes to Governor Scott Walker for his signature. Also, pro-hunting Senate Bill 228 passed in the Assembly and will now also be sent to Governor Walker for his consideration. Though Governor Walker has already voiced his support for both AB 69 and SB 228, please contact him today and respectfully urge him to sign these NRA-backed bills.