Ted Nugent Rocks Texas Campaign for GOP's Greg Abbott

http://abcnews.go.com/blogs/politics...s-greg-abbott/




By Arlette Saenz
@ArletteSaenz



Feb 18, 2014 2:45pm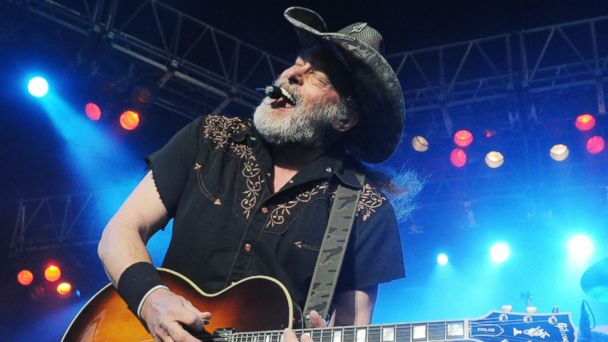 Chris McKay/Getty Images



Texas Attorney General Greg Abbott is drawing criticism for campaigning for governor today alongside the controversial rocker Ted Nugent.


Nugent, who has made incendiary comments about President Obama and women, campaigned with Abbott today at Get Out The Vote events in Denton and Wichita Falls, Texas.
Abbott's opponent, Texas state Sen. Wendy Davis, and Democrats are criticizing Abbott's decision to hit the campaign trail with Nugent.


"Greg Abbott's embrace of Ted Nugent is an insult to every Texan — every man, woman, husband, and father. If this is Greg Abbott's idea of values, it's repulsive," Davis said in a statement.
"Just last month, Ted Nugent called President Barack Obama a 'subhuman mongrel' and 'gangster.' He spews hate against our first African-American president and in return, Attorney General Greg Abbott welcomes him to the campaign trail. Is this how Abbott celebrates Black History Month?" Gilberto Hinojosa, chairman of the Texas Democratic Party, said.


The Texas governor's race is part of ABC News' 14 for 14 coverage. Click here for a snapshot of the race.



During the 2012 campaign, Nugent was investigated by the Secret Service after making potentially threatening remarks against the president.


"If Barack Obama becomes the president in November, I will either be dead or in jail by this time next year," Nugent said at the National Rifle Association Conference in 2012. Nugent, who endorsed Republican presidential candidate Mitt Romney in the 2012 campaign, met with the Secret Service, who later dismissed the rocker's comments.


Last month Nugent had fresh insults for Obama.


"I have obviously failed to galvanize and prod, if not shame, enough Americans to be ever vigilant not to let a Chicago communist-raised, communist-educated, communist-nurtured subhuman mongrel like the ACORN community organizer gangster Barack Hussein Obama to weasel his way into the top office of authority in the United States of America," Nugent said in an interview with Guns.com.


Nugent has also made controversial remarks about women. In 2007, he called then Sen. Hillary Clinton, D-N.Y., a "worthless b****."
But Nugent seems unfazed by this week's criticism, tweeting Tuesday morning before his events with Abbott.

Ted Nugent ✔ @TedNugent
Follow
Proudly campaigning for the great TX AG Greg Abbott for TX governor
8:38 AM - 18 Feb 2014
125 Retweets
128 favorites


Abbott, whose office is independent of the governor, has been leading the state's legal challenge to virtually every notable piece of legislation that's come out of Washington in the Obama era. Abbott has sued the Environmental Protection Agency 17 times over air quality standards and greenhouse gas emissions. (He believes carbon dioxide can't be a pollutant because it is emitted by humans, and after experiencing freezing temperatures in Midland, he once tweeted, "Whatever happened to global warming?" It was January.)


He challenged the Department of Health and Human Services four times: over funding that was attached to abortion reimbursements, for mandating that all employers provide access to contraception, over the Affordable Care Act, and for the taxation scheme in the 2003 Medicare expansion.


He sued then-Treasury Secretary Tim Geithner over section III of the Dodd-Frank Wall Street reform bill, which gives the federal government the power to liquidate big banks.


He twice sued US Attorney General Eric Holder over the Department of Justice's rejection of the state's voter ID law and redistricting plans. (After the Supreme Court struck down Section 4 of the Voting Rights Act, Abbott announced that Texas' voter ID law would go into effect immediately.)


He sued the Department of Education over a delay in the disbursement of $830 million in federal education funds.


He sued the Department of the Interior three times: over the Obama administration's moratorium on offshore drilling after the Deepwater Horizon spill, the creation of a new national wildlife refuge on the Upper Neches River, and a proposed casino on the Kickapoo Indian reservation. He took the Federal Energy Regulatory Commission to court over reporting requirements for pipeline companies.


Even the National Marine Fisheries Service entered Abbott's crosshairs this spring, after the agency proposed "shortening the red snapper recreational fishing season in federal waters in the Gulf of Mexico off the states' coasts." Give a man a fish and he'll eat for a day; take away his fish and hell hath no fury.
Abbott's opposition to any form of federal control is so fierce he even went to court to argue that Texas cities should not be compelled to provide wheelchair access because he believed the Americans With Disabilities Act was unconstitutional—despite the fact that Abbott himself has been paralyzed from the waist down since 1984, when he was struck by a falling tree.


But Abbott's biggest legacy in Washington may be the Republican who has done the most to shake it up in Obama's second term—Sen. Ted Cruz, whose political career Abbott helped launch a decade ago when he hired Cruz to be the state's first solicitor general. Cruz won election to the Senate last fall largely on the strength of his anti-Washington record as a solicitor general. But his cases were really Abbott's cases, a fact Cruz's opponents sought to use against him during the campaign.